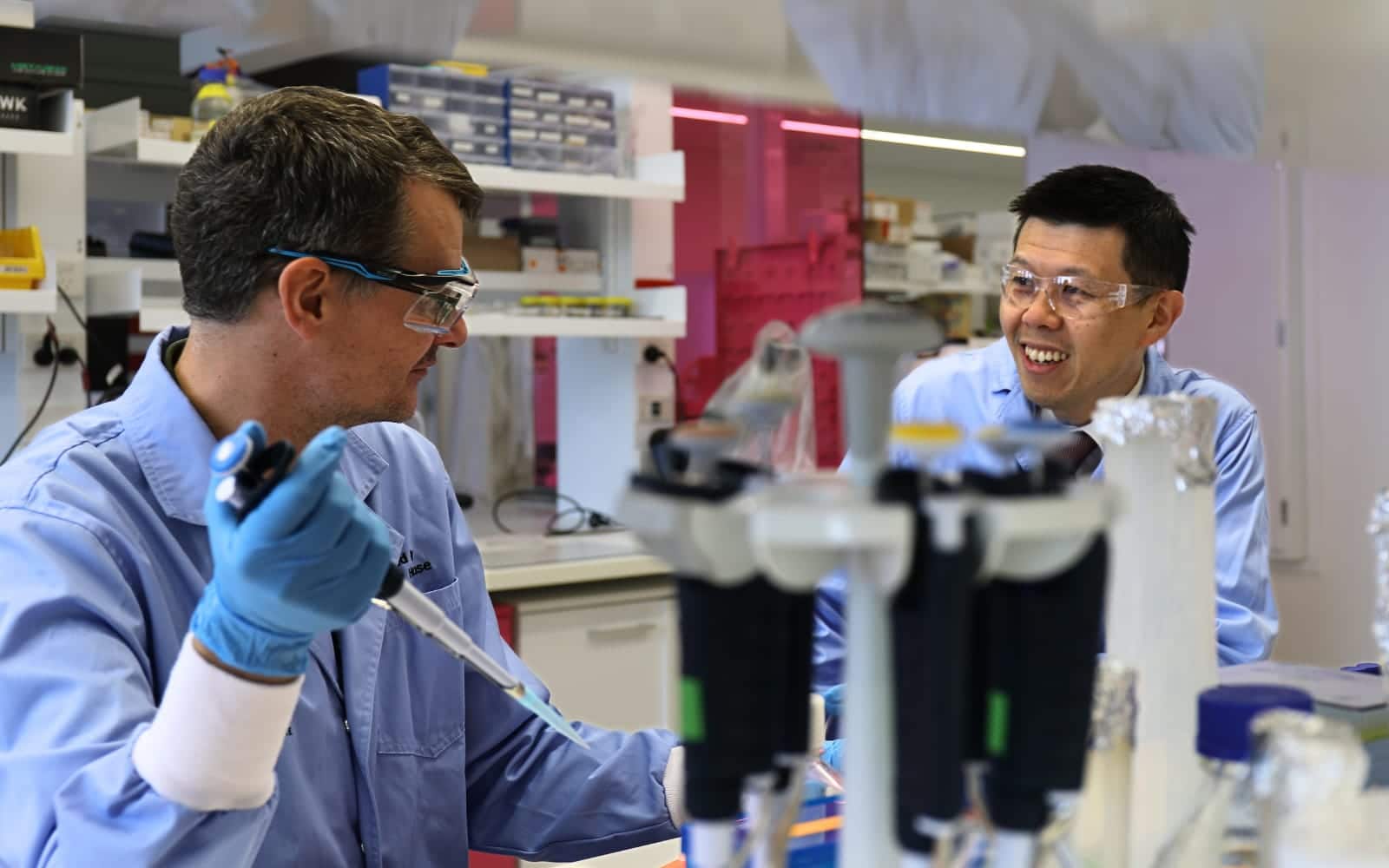 Breakthrough research from the Harry Perkins Institute of Medical Research that explores possible new treatments for melanoma will be presented at the American Society of Clinical Oncology (ASCO) Annual Meeting.
Medical oncologist and physician researcher Dr Peter Lau will present a summary on the CHARLI (CHeckpoint And RANK-L Inhibition) trial, his team's work into new combination immunotherapy treatments for patients with metastatic melanoma.
Dr Lau, who is Translational Immuno-oncology Fellow at the Melanoma Discovery Lab at the Harry Perkins Institute of Medical Research (Perkins), said: "I am excited to be attending ASCO to present our CHARLI trial – an investigator-initiated clinical study I have worked on for so many years. This trial was instigated with my colleagues at Peter MacCallum Cancer Centre and recruited patients with metastatic melanoma from metropolitan and regional sites across Australia. Our research shows that we may have found a new combination of drugs and immunotherapy that could help these patients.
"The results of this study provide a very encouraging signal that the addition of denosumab increases anti-cancer activity in combination with existing immunotherapies. Denosumab is a well-known drug used to treat osteoporosis, prostate and breast cancer. We are very pleased with the results of the study, and hope it leads to additional clinical trials in melanoma," Dr Lau said.
Head of the Perkins Melanoma Discovery Lab, Professor Jonas Nilsson, is co-author on two abstracts being presented at the ASCO conference, that explore possible new treatments for cancer in the liver, resulting from uveal melanoma (eye cancer). Uveal melanoma can spread from the eye to the liver to form so called metastases, which are particularly resistant to treatment.
Professor Nilsson has been working with clinicians at Sahlgrenska Hospital in Gothenburg, Sweden, to measure the efficacy of "rinsing" the liver with high doses of chemotherapy to clear the liver from bad immune cells and allow good immune cells to attack the tumour.
Professor Nilsson explained: "In the SCANDIUM trial, a phase 3 trial, the rinsing method, called isolated hepatic perfusion (IHP), was tested to see if it is better than any other medicines doctors can prescribe. While most patients responded well initially, tumours regrew in around 45% of patients.
"In the SCANDIUM 2 trial, we tested combinations of IHP with different immunotherapy drugs, to see what effect it had for those patients whose tumours regrew. While it's in its early stages, the results from SCANDIUM 2 look promising."
Professor Nilsson and his team at the Perkins have created a biobank of melanoma tumours from these two trials, and from patients in Western Australia, to analyse the genetics of the tumours and to investigate reasons why some patients may respond to treatment and others do not. This work is ongoing.
Dr Lau's abstract: CHARLI: A phase Ib/II trial of ipilimumab-nivolumab-denosumab or nivolumab-denosumab in patients with unresectable stage III and IV melanoma.
Professor Nilsson's abstracts: Survival after isolated hepatic perfusion as a treatment for uveal melanoma liver metastases: Results from a randomized controlled trial (the SCANDIUM trial).
A phase I, randomized, controlled, multicentre trial of isolated hepatic perfusion in combination with ipilimumab and nivolumab in patients with uveal melanoma metastases (the SCANDIUM 2 trial).
40,000 delegates are expected to attend the world's largest oncology conference, being in Chicago 2-6 June 2023.
---