Systems Biology and Genomics (Associate Director - Scientific Strategy)
Professor Alistair Forrest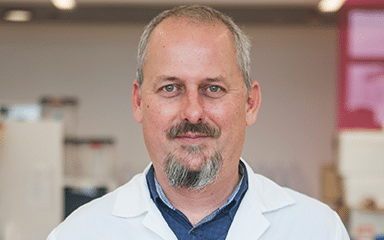 Contact details
Systems Biology and Genomics (Associate Director - Scientific Strategy)
Professor Alistair Forrest
Profile
Professor Forrest BSc(Hons), MIT, PhD was born in Western Australia and obtained his BSc (Hons) in Biotechnology at Murdoch University in 1993. He then moved to Brisbane and while working as a research assistant at the QIMR completed a Masters in Information Technology at the Queensland University of Technology. Shortly afterward, he completed his PhD in Bioinformatics at the Institute for Molecular Bioscience at the University of Queensland. During his time in Brisbane he was involved in both 'wet' and 'dry' science, generating and analysing some of the first microarrays used in Australia and invented a strand specific RNA-seq protocol that heralded the start of the RNA-seq revolution. In 2007 he moved to RIKEN Yokohama Japan on a CJ Martin Fellowship. Over the past seven years he has progressively been promoted at RIKEN taking on more senior roles, and is currently scientific coordinator of the FANTOM5 (Functional Annotation of the mammalian genome) project consisting of a consortium of over 250 scientists in 20 countries. This has used single-molecule sequencing to generate a map of promoters and enhancers across a large collection of human and mouse primary cells, cancer cell lines and tissues. The work has recently published in the prestigious journal Nature along with a collection of 18 additional satellite papers in specialized journals such as Nature Biotechnology, Genome Research and Blood.

After 20 years away from Perth he returned thanks to funds raised through the MACA Cancer 200 and a Cancer Research Trust Senior Cancer Research Fellowship.
Research Overview
Professor Forrest's research focuses on using cutting-edge genomic techniques, in particular next generation DNA sequencing and computational approaches (bioinformatics) to understand how cells work at a system level. He has extensive experience in next generation sequencing (NGS) and has published using a variety of platforms (Roche, SOLiD, Illumina and Helicos) and protocols (RNA-seq, CAGE, small RNA, ChIP-seq). The move to Perkins has allowed him to translate his basic research on mammalian systems onto clinically relevant questions such as identification of novel cancer biomarkers and drug targets.
Research Projects
Mammalian transcriptional networks defining cellular states
Broken transcriptional regulatory networks in cancer
Pan-cancer and mesothelioma biomarkers
Non-coding RNA biology
Tissue specificity of drug targets
Selected Publications
1. Hon C. et al. An atlas of human long non-coding RNAs with accurate 5′ ends. Nature (2017)
2. de Rie D. et al. An integrated expression atlas of miRNAs and their promoters in human and mouse. Nature Biotechnology (2017)
3. Arner E. et al. Transcribed enhancers lead waves of coordinated transcription in transitioning mammalian cells. Science (2015).
4. Forrest ARR et al. A promoter level expression atlas. Nature (2014)
5. Severin J et al. ZENBU: secured scientific collaborations, data integration and omics visualization. Nature Biotechnology  (2014)
6. Andersson R et al. An atlas of active enhancers across human cell types and tissues Nature (2014)
7. Fort A, Hashimoto K et al. Deep transcriptome profiling of mammalian stem cells supports a regulatory role for retrotransposon in pluripotency maintenance Nature Genetics (2014)
8. Carrieri C, Cimatti L, Biagioli M, Beugnet A, Zucchelli S, Fedele S, Pesce E, Ferrer I, Collavin L, Santoro C, Forrest ARR, Carninci P, Biffo S, Stupka E, Gustincich S: Long non-coding antisense RNA controls Uchl1 translation through an embedded SINEB2 repeat. Nature (2012)
9. Ravasi T, Cannistraci C, Katayama S, Bajic V, Tan K, Akalin A, Schmeier S, Kamburov A, Kanamori M, Bertin N, Carninci P, Daub C, Forrest A, Gough J, Grimmond S, Han J, Hashimoto T, Hide W, Hofmann O, Kaur M, Kawaji H, Kubosaki A, Lassmann T, van Nimwegen E, MacPherson C, Ogawa C, Radovanovic A, Schwartz A, Teasdale R, Tegnér J, Lenhard B, Teichmann S, Hume D, Ideker T, Arakawa T, Ninomiya N, Murakami K, Tagami M, Fukuda S, Imamura K, Kai C, Ishihara R, Kitazume Y, Kawai J, Suzuki H, Hayashizaki Y. An atlas of combinatorial transcriptional regulation in mouse and man. Cell Mar 5;140(5):744-52 (2010).
10. Suzuki H, Forrest ARR, van Nimwegen E, et al.: The transcriptional network that controls growth arrest and differentiation in a human myeloid leukemia cell line. Nature Genetics (2009)