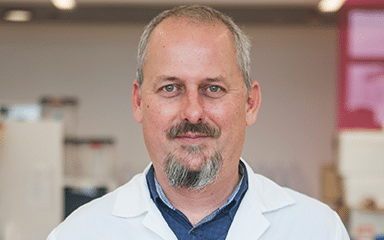 New tool developed in Perth makes it simpler to search for the genes causing autism spectrum disorder (ASD)
Researchers at the Harry Perkins Institute of Medical Research have narrowed down regions of the genome that are lost or gained in ASD.
Associate Director of Research at the Harry Perkins Institute, Professor Alistair Forrest, led the research published this week in the internationally regarded journal in Cell Reports[1].
"We found that the regions associated with ASD are smaller and contain fewer genes than previously thought, making the search for the causative genes simpler.
"We also found that each region is associated with different types of ASD and for the first time showed that ASD associated genes are much more likely to be expressed in the brain than other tissues.
"The research also confirms Autism Spectrum Disorder is a genetic disorder with many different causes", he said.
Using a newly developed statistical tool the team analysed the genomic alterations found in ASD.
The new statistical tool helped highlight the myriad causes of this neurological disorder.
"We developed a new method to analyse the parts of a patient's genome with more or less than the expected 2 copies, and used it to analyse genomic regions associated with autism.
"We showed that our method outperforms the leading tools currently used by researchers in this field globally.
"In summary our work reconfirms that ASD is a genetically heterogeneous disorder with many different causes.
"To treat patients we need to know which subtype they have", Professor Forrest said.
ASDs comprise neurodevelopmental disorders with different phenotypes, including impaired social interaction, repetitive behaviours, and learning and speech impediments.
There is a strong genetic component to ASD, with a recent study estimating a heritability of 83%, suggesting ASD risk is attributable largely to genetic factors.
The findings are the latest work led by Perkins researcher Professor Alistair Forrest in collaboration with Associate Professor Julian Heng at Curtin Health Innovation Research Institute (CHIRI) and was started by funding from a Telethon Perth Children's Hospital Research Fund grant.
The first author Dr Hamid Alinejad-Rokny has now gone on to set up his own laboratory at UNSW.
[1] Hamid Alinejad-Rokny, Julian I.T. Heng, Alistair R.R. Forrest. (2020) Brain-Enriched Coding and Long Non-coding RNA Genes Are Overrepresented in Recurrent Neurodevelopmental Disorder CNVs. https://doi.org/10.1016/j.celrep.2020.108307
---